Little House Customs
Welcome To Our Store
View Cart
Our goal is to offer items of interest to our fellow Casitans and our fiberglass cousins at reasonable prices and fair shipping rates. If you would like to order from our store you can do so online, by emailing [email protected], or call us at 469.371.0234.
Business Hours: Mon-Fri 9am to 5pm
---
Products Categories
Plumbing Electrical General Running Gear
---
Have questions?
Check out our Store FAQ (Frequently Asked Questions) page.
If that doesn't answer it, give us a shout.
VENT MOD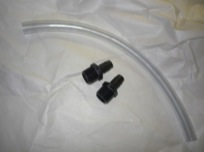 Increase gray tank capacity by 6 to 8 gallons!

After a great deal of experimenting we still believe our way of doing the vent mod is the best. So we've come up with a kit that includes all the parts and complete instructions to do it the same way we've successfully done it on hundreds of Casitas.

The kit requires that you own an 11/16" drill bit (paddle style will work fine) but you must also beg, borrow or steal a 1/2" pipe tap to cut threads into the tank and PVC T.

The sizes listed are NOT a typo. The 1/2" pipe is measured as the inside diameter. The outside diameter is much larger, hence, the requirement for the 11/16th drill bit.

If you can't access this tool, you could always drive by your local plumbers shop after you've drilled the holes and have it done. It takes less than 5 minutes to tap the threads by hand. Some have successfully forced the threaded fitting into a slightly larger hole and cemented them in with a product called ShoeGoo. It's available at your local athletic shoe store and will stick to all types of rubber and plastic.
Note: This kit will only work on 17 foot Casitas made after 1996, only 16 and 13 footers in which the gray tank is less than 11 inches from vent T (the pipe that comes up through your closet).
TOILET VALVE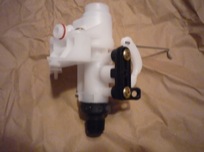 This is a direct replacement valve for the Thetford AquaMagic V toilet used by Casita since about 2004. We also have the valve for the earlier AquaMagic IV used from approximately 2000 until sometime in 04. The IV would be identifyed by its two foot pedals. About a 20 minute job to replace. The symptom dictating replacement is water pouring out the back of the toilet. Note the next product is an emergency cure for this problem that still lets you use the rest of your water system. (see Toilet Supply Mod)
| | | |
| --- | --- | --- |
| Thetford AquaMagic V replacement valve | $41.95 | Add to Cart |
| Thetford AquaMagic IV replacement valve | $41.95 | Add to Cart |
TOILET SUPPLY MOD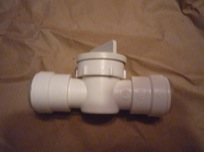 This a simple mod that could save a camping trip from disaster. Cut the supply line to the toilet and plug in this quick connect ¼ turn valve. If your toilet valve leaks or won't stop flushing simply cut off the water to the toilet as a temporary measure until you get your problem fixed, and keep on camping! The toilet can be flushed manually using your shower head. This mod is also a benefit to Boondockers as it allows you to flush the toilet without consuming water (the foot pedal still works) or recycling gray water or using the shower head as need dictates.
RHINOFLEX 5' SEWER EXTENSION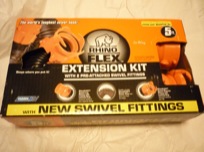 We travel with the infamous favorite, the RHINOFLEX 15' sewer hose that so many folks prefer. But even at 15', it frequently limits our set up location. Clearly the people that plumb parks don't own RV's. We began carrying this 5' male/female extension and found that it gives us the flexibility we need to set up where we want within the site.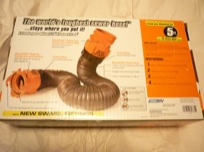 We've also discovered that at 5' long, it's usually long enough to be all we need at the dump station if we're camping in a state park. No need to drag out the full 15' hose when you're parked 4 feet from the cleanout. It's much easier to rinse out as well. If you have an older model Casita with the Valterra sewer hose carrier behind the propane tanks, a bit of minor trimming of the RHINOFLEX hand lugs will allow it to fit in the factory carrier. It will not fit the rear factory bumper if you're already carrying the 15' version.
| | | |
| --- | --- | --- |
| 5' Rhinoflex extension with male/female bayonet fittings | $29.95 | Add to Cart |
PHOENIX SWIVEL AERATOR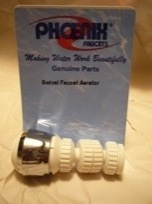 This aerator replaces the stock one on all Phoenix and Utopia faucets with the included adaptor. It works particulary well with the 6" bar faucet used in the Bath Remodel and the Phoenix and Utopia hi rise faucets. It swivels to allow the water stream to reach the corners of the sink for rinsing. In addition it instantly adjusts from spray to stream by pulling up or down on the swivel head.
STEEL WATER HEATER DOOR LATCH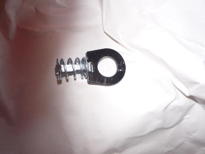 Your plastic water heater door latch will break eventually. Why wait? Duct tape is about the only solution when it does. If your grip isn't what it used to be, this one is strong enough to grab with pliers.
ANODE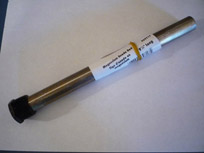 These are full length (9 ½") anodes made by Aqua Pro. While they should be removed and checked at least twice a year, water chemistry can consume one much faster. They must be removed to drain the heater and draining helps prevent the rotten egg smell that many encounter. Many folks remove and inspect them after every trip.

Most folks need a magnesium anode. If your magnesium anode lasts less than 6 months, switch to the aluminum anode.
SUBURBAN WATER HEATER ELEMENT AND OPTIONAL WRENCH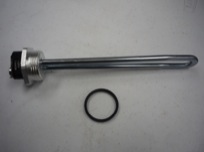 Forgot to turn off the heater before you drained it? Don't be embarrassed, you're not the first! We have the genuine original Suburban replacement part along with our step by step instructions. This is not a difficult project and if you can change your anode, you can change your element. This is not a generic hardware store element. It is the correct OEM model for your heater.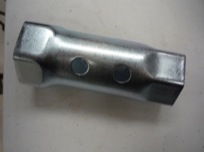 We also stock a wrench designed just for elements. Order it if you don't have one. No other tool will fit quite right.

This is not a wrench for the anode, it only fits the element. For an anode wrench, you need a 1 1/16" 6 point socket available at your local hardware store, home improvement or auto parts store.
| | | |
| --- | --- | --- |
| Suburban Water Heater Element with instructions | $29.95 | Add to Cart |
| Element Wrench (does not fit anode) | $6.95 | Add to Cart |
| Water Heater Element & Wrench. BUY BOTH AND SAVE! | $35.99 | Add to Cart |
TANK FLUSH WAND WITH SHUT OFF VALVE
This is the same wand we use here in the shop for performing water heater serice. It's angled tip and long reach make it easy to reach the far corners of the tank and all around the electric element. The positive shut off valve makes this an easy project! Flushing your tank regularly is an important part of water system hygiene. The accumulations are the result of water chemistry as it acts on your anode along with grit from campground supply systems. Frequent flushing will keep your faucet areators clean and stave off the dredded purple flakes. Purple flakes in your tank flush water indicated the degradation of your tank lining and dictate more frequent anode replacement and more regular flushing to remove these sediments. We also find this to be a particularly handy nozzle for filling the fresh tank!
SNEAKY PETE GRAY WATER SEWER CAP WITH TEXAS WINTERIZING ADAPTER
NEW IMPROVED VERSION!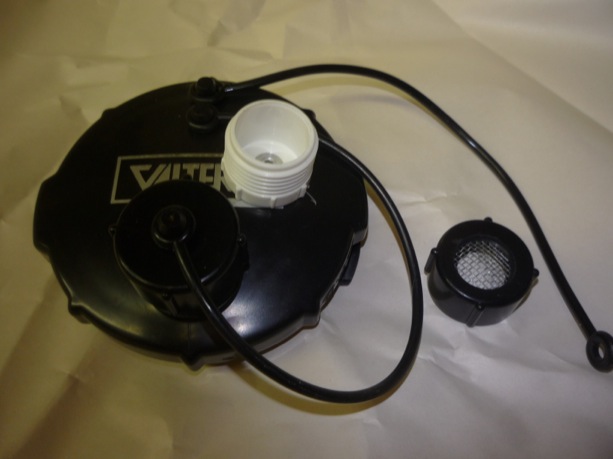 We've been making this kit for some time now and a good idea just got better! I keep losing the screen cap since there is no way to attach it and I keep forgetting where I store it. Solution? We've attached a threaded fitting so your cap stores right where you need it next. For those that have already bought the kit, we haven't neglected you. We have the upgrade available as well.
While we certainly don't advocate illegal activities, this cap will allow you to discharge your gray water through a garden hose anywhere it's either legal or socially acceptable. It also makes it easier to catch and control those nasty spills if you have leaky valves. One source of tank odors is bacteria thriving on the wet remains in your tanks. We like to keep the valves open so the system can air out.
The adaptor screws on to the garden hose fitting and is screened to keep critters from moving in. Air flows freely through the cap, the tanks and out your roof vents. Many of us here in Texas use this system when we winterize as well.
| | | |
| --- | --- | --- |
| Sewer cap with garden hose fitting and extra vented, screened cap | $14.95 | Add to Cart |
| Replacement rubber tether (works with original equipment cap as well) | $0.50 | Add to Cart |
CITY WATER CONNECTION PLUG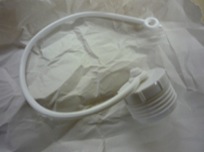 Ok, so you lost the cap for your city water connection, or its internal check valve has gone south and all the water leaks out of your fresh tank. While replacing the entire port is one solution we offer, some of us might not be as handy as we'd like, so here's another approach to the problem. Simply screw in this threaded plug and it provides a water tight seal. It has an attached tether and we provide a rivet, snap cap and a base so that you can optionally hang the cap near your city water port when not in use.
FRESH TANK FILL/DRAIN ADAPTOR
This handy device attached to the fresh tank drain on models where the drain exits the bottom of the trailer. It consists of a ¼ ball valve for draining as well as a garden hose for filling the tank from the bottom. It makes it very easy to add to the fresh tank without all the spit back and spillage of the factory fill port. Simply remove the factory cap, add a bit of Teflon tape and screw it on.
BLACK AND GRAY VENT CAPS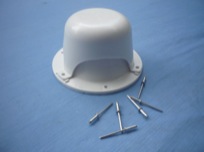 We have looked at all of them and finally settled on this cap as the one to use! It does not turn yellow or get brittle like your original. As usual, we include rivets and instructions. The rivet pattern matches most Casitas so you probably won't have to drill new holes.
priced each, so order two if you want to replace them both
CONNECT IT TIGHT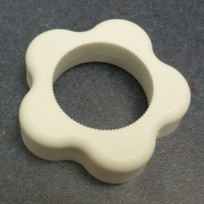 If your hands aren't quite as strong as they used to be and don't want to go to all the trouble of changing the entire city water connection port, this handy star wheel might be the answer. It's toothed inside slides over your original factory city water port and gives you the same easy grip surface as the one on our replacement port. The knurling on your original brass connection must be in good condition for this to mate properly. If you've already resorted to Channel Locks and rounded the brass fitting smooth, it's too late for this to work and you must replace the entire port.
---
EZ ID LED FUSE KIT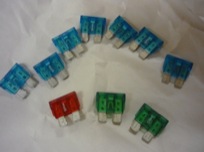 We've put together a complete kit to replace all the 12vdc fuses in your converter with these easy to interpret fuses. In the event you blow a fuse you don't have to be confused about which one. When the fuse blows it lights up with an internal LED. Our kit is generic and fits the "average" Casita. It includes two 30amp fuses for the later model or upgraded reverse polarity protection circuit, seven 15 amp fuses and one 10amp. We stock individual replacement fuses so you don't have to buy an entire kit if you do accidentally blow one.
This feature is built in on all Casitas from mid 2014 and later.
30 AMP SURGE PROTECTOR WITH BUILT IN FAULT DETECTION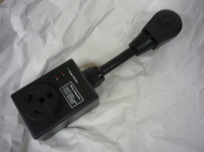 We travel with 2 laptops, two cell phones and two printers and a scanner. Too much stuff, but that's what it takes for us to stay in touch with our friends and customers while on the road. After seeing some campground electrical disasters, I decided it was time to protect our equipment from any electrical gremlins that might be lurking. This is the one we use now. It protects up to 835 joules and 22,500 amps. I don't have to know what that means to like it. My electrical guru friends say that's plenty and that's good enough for me! But what I really like is the built-in wiring fault detector that lets you know what's up with that crusty looking power pole you're about to plug your precious Casita into. It gives LED indication of all possible wiring faults that may be present. About the only thing it won't do for you is take the issue up with the campground manager!
100 WATT 12VDC TO 115VAC INVERTER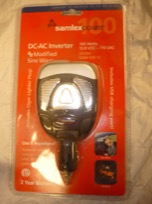 This portable inverter simply plugs into your 12v outlet to provide 115v power to charge your laptop or cell phone. It will also power most smaller televisions. It's made by Samlex, a very trusted name in solar and power conversion.
This device only produces 100 watts and will NOT power your AC or microwave. Know the power consumption of what you want to power before you order.
ANDERSON DISCONNECT FLEXI CABLE SET WITH TERMINAL BLOCK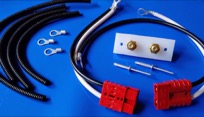 We're now offering yet a third version of a battery cable set utilizing the popular Anderson connector. These industrial strength connectors offer a convenient way to disconnect your battery so it can be easily removed for checking the water, short term disconnecting to prevent drain from parasitic loads or total removal for long term winter storage.
We incorporate the same super flexible marine wire and our terminal block that we use in our other battery kits. This gets the factory stiff wire completely out of the equation and provides a convienent spot for attaching additional accessories. The wiring is sized so that you must insert the battery negative terminal first.
Intallation is straight forward and requires only the installation of two rivets and three crimped connections. Half the fun of this project is sending about 6 feet of super stiff wire off to the recyclers!
| | | |
| --- | --- | --- |
| Anderson Disconnect Flexi Cable Set with Terminal Block | $63.95 | Add to Cart |
A/C AUTO RESET HIGH TEMPERATURE LIMIT SWITCH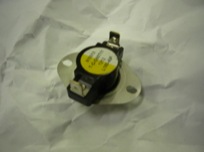 This is the original equipment switch used by Coleman prior to changing to the manual reset version. If your manual reset version trips in normal operation it may be defective and changing to this version will solve your problems. It only takes about 20 minutes to change and requires only a screwdriver.
| | | |
| --- | --- | --- |
| A/C Auto Reset High Temperature Limit Switch | $15.95 | Add to Cart |
30 AMP MALE REPLACEMENT PLUG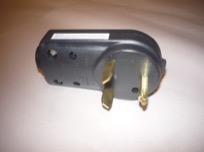 Molded 30 amp cord/plug combos are notorious for pulling apart, leaving the wire exposed at the end. Sure, we can wrap it up with electrical tape, but that's sticky and doesn't give the level of protection we need. It's time to cut it off and attach this quality 30 amp plug. It offers good strain relief and its profile makes it easy to remove from the 30 amp power pole. It is of course a right angle plug allowing the door to shut on the power pole making for a nice snug connection.

Wiring tip: Black goes to the black screw, white to the silver and green goes to the green screw.
7 PIN REPLACEMENT PLUG (TRAILER END)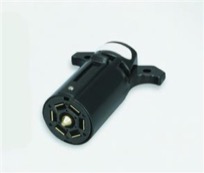 So your molded plug is coming loose from the cable or you've forgotten to hook it up and dragged it half way across Texas. It's OK, we've all done it at least once. This is the ideal replacement for that plug. It's a genuine Bargman with really nice built in strain relief. It's a bit tedious to replace but we include some good pictures from Gene the Webmaster's Casita manual.
REPLACEMENT A/C FILTERS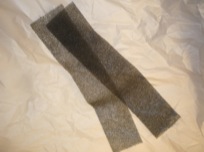 These are genuine original equipment Coleman filters and will fit all Coleman Polar Cub, Mach 8, 1 and Mach 3 A/C units. It does NOT fit 2015 Casitas and early Colemans in which the shroud is marked simply Coleman Mach. The dimensions are 3 1/8" x 15 and comes two filters in a package.
REPLACEMENT LOUVERS FOR CEILING GRILL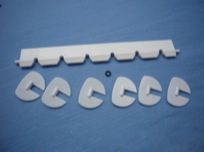 Finally you can replace those missing louvers on the ceiling register! Simple to install without removing the ceiling assembly. Fits all Polar Cubs as well as the newer Mach 8. Will not fit the Mach 8 in 2015 or later models. Price includes one bar and its vanes.
HARD START CAPACITOR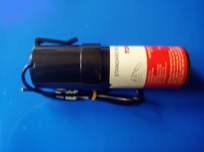 This is a hard start capacitor recommended by several Heat & Air contractor friends of ours. We've been selling them for some time now both as a backup for your primary and to serve its intended function to ease the strain on your generator.
The hard start is built into all Coleman air conditioners produced after 2008.
LIGHTED WATER PUMP SWITCH KIT
We use a white JR Products lighted switch (red light) and couple it with a white wall plate that's the same rivet spacing as the chrome one you have and include two 1/8" white rivets and a pre terminated ground wire. This switch matches the one we use on the Auto A/C kit and our Illuminated Water Heater Switch for a coordinated look. Simply drill out the old rivets, plug in the new switch and attach the ground wire to your furnace case. We even include the sheet metal screw. If you don't have the furnace, let us know and we'll make the kit up to reach the nearest ground. It can usually be found in the lower left side of the sink cab on Freedoms and Spirits. A bit tougher on the Liberty but let us know which you have.
ILLUMINATED WATER HEATER SWITCH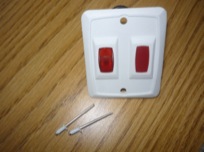 We're now using an illuminated switch that matches our entire family of interior switches. Our switch functions exactly like your old Suburban switch but on ours the on/off switch stays illuminated the entire time the switch is in the ON position serving a much needed reminder that your propane heater is activated. The adjacent red indicator functions the same as your original, letting you know your heater is going through its ignition sequence. Very easy to install! Two rivets to replace (or two screws on Freedoms) and four color coded wires to connect.
BATTERY DEPLETION CHART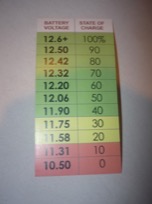 This handy peel and stick chart takes the confusion out of what the charge state of your battery means. It lets you know where you stand and gives you a clue whether to plug in, fire up the gen set or plug into solar. It makes a great companion to our 12v outlet volt meter.
THREE WAY PORCH LIGHT WIRING KIT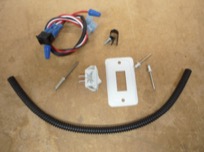 This pre-terminated kit makes it really easy to turn your porch light into a genuine three way switch. Great for turning on that outside light when things go bump in the night! The light can be turned on or off from both the inside switch or the outside switch. No soldering, no crimping and no hunting for buried wires under the carpet or behind your built-in microwave. If you have the built-in microwave there is no need to remove it. You simply drill out one of the rivets in the vent by the door, rotate it out of the way, and there is then plenty of room to snake the wire to the new inside switch location. We even include a replacement rivet! Our kit includes a harness long enough to mount the new inside switch in the side of the microwave cabinet near the door. We've found it difficult on some models to route the wire lower into the fridge cabinet, so we made it easy! You must only drill a hole in the back of your light fixture into the microwave cabinet and drill or cut a hole for the inside switch. And of course our easy to follow instructions are included. Works with both the Bargman as well as the Optronics exterior light fixtures.
| | | |
| --- | --- | --- |
| Three Way Porch Light Switch Kit with Pre-Terminated Harness | $49.95 | Add to Cart |
REPLACEMENT LIGHT BULBS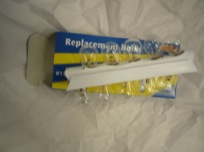 So plenty of people sell LED bulbs but many of us don't need LEDs or want them. So where do you go to get plain old incandescent bulbs for our interior and exterior fixtures? Right here at LHC! This is a 10 pack of the correct 1141 bulbs for all of our Bargman, Gustafson and Optronics fixtures. 21 candle power.
OPTRONICS AMBER LENS
For 2010's
Yep, not only do we have them, we promise not to send you a Bargman lens when you order this one! While the Optronics was used primarily in 2010, I've found some on 09's and some early 2011 models. Check your outside fixtures before ordering. This lens is 5 ⅞" wide by 2 ¼" tall not counting the attaching tabs. It has the dotted pattern like your original.
---
THE HIGH STEP NO MORE 24" DOUBLE STEP KIT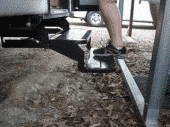 Entering and exiting your high lift, 15 inch tire Casita no longer has to be a cardio exercise. You can leave your aerobic step at home! We've put together a "no weld" bolt-on replacement double step kit. We've done all of the welding, modifying and fabricating here in the shop.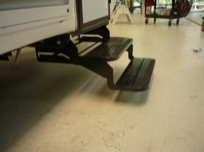 When installed, the highest step is seven inches below your threshold. The second step is seven inches below that. The remaining distance to the ground will vary depending upon where you camp, but will likely end up between five and eight inches. All-in all, a very manageable staircase.
The step is not difficult to install. While it can be done with a hack saw, a file and an electric drill, it would be easier if you owned, could borrow, or rent a reciprocating saw and a hand held grinder. Or if you're like me and believe there is no such thing as too many tools, these tools can be purchased very inexpensively from Harbor Freight Tools. Send us an email and Debbie would be glad to forward you a copy of the installation sheet.
Note: Only fits 17's that were equipped with a single step.
JACK-E-UP
NEW IMPROVED CASITA VERSION AVAILABLE ONLY FROM LHC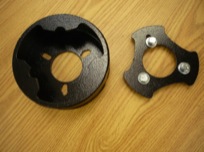 This amazing new jack aid is a really cool solution to those of you with late model tow vehicles. Yep, the tail gate hits the tongue jack and that's a problem. You could use a longer stinger as long as you have 30% of your towing capacity to give up, but for the rest of us, this solves the problem. After you spend 5 minutes installing this, you simply hitch up, raise your jack a couple of turns off the ground, turn your jack 1/3 of a turn by hand and pull it out! Stow it in the back of your truck. (remember you can lay your tail gate down now!)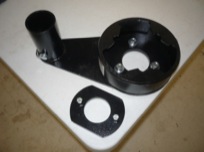 Or stow it in the now available Jack-E-Hand. The Hand attaches to your coupler under the Jack-E-Up and gives you a convenient place to stow your jack. It includes a locking pin as well and as an added bonus; the Hand doubles as a flag pole holder for many brands of telescoping flag poles. Inside diameter of the hand is 2 1/16.
We've tested this product and really like the safety and ease of use. We've added a bottom stabilizer bracket that bolts to the existing bracket to take much of the play out of your factory jack. This improvement really makes it stable.
For a better understanding of how it works, visit jack-e-up.com and watch the three minute video.
This is NOT a solution for those with electric jacks. For those of you with the Barker or other brands of electric jack, see perfectcasita.com for their Jack Relocation Bracket.
FRIDGE HINGE REPAIR/DAMAGE PREVENTION KIT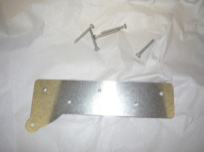 All too often we hear of the top hinge breaking on the 17-foot Dometic fridges. This is bad news when it happens because that top hinge is part of that quite expensive door! This stainless steel bracket is easy to install and will repair that broken hinge permanently or prevent it from happening on one that's not yet broken! The very thin profile is nearly invisible when installed. This is a must have for all 17' refrigerators.
| | | |
| --- | --- | --- |
| Fridge Hinge Repair/Damage Prevention Kit | $24.95 | Add to Cart |
FRIDGE VENT AND CONVERTER REPLACEMENT LATCH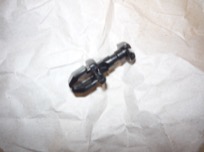 This latch is an exact replacement for the latch on exterior fridge vent panels as well as the Parallax and Magnetek converters.
| | | |
| --- | --- | --- |
| Fridge Vent and Converter Replacement Latch | $3.99 | Add to Cart |
GUSTAFSON DOUBLE LIGHT FIXTURE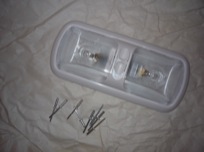 For those 2010 and later owners, we have a Gustafson double light fixture. The double features clear lenses, incandescent bulbs, and install rivets. We really like the three position switch on this light. It allows for off, one light or both! This fixture would make a great addition in any spot you wish you had a bit more light. That corner you curl up in with a good book or perhaps the entry hall allowing you to shed a bit more light into the closet seem like a couple of great applications. If you run LED's, put an incandescent in one side for when the LED alone is not quite enough. And of course it make a great way to utilize the left over circuit if you've removed your vent hood.
BATHROOM/CLOSET HANGING BAR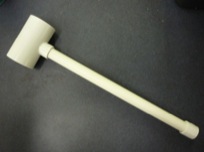 While we acknowledge that many of our friends have made their own PVC pipe towel bar, we have been overwhelmed with emails requesting that we offer it in the store. We certainly can't take any credit for the brilliant design but you can read all about it at this Casita Forum thread.
It would seem that some of you would just rather that we do the gathering, cutting, sanding, fitting and handle the harsh chemicals required to assemble this handy device so you can spend more time camping and less time modding! That's OK by us so here they are.
The fitting is cut so it simply snaps onto the vent pipe location of your choice either in the bath or the closet. Friction holds it in place. We don't glue the cap on so it can easily be shortened to what ever length you require. Use it as an extra towel bar, TP holder, magazine rack or whatever. The possibilities are endless. It will pivot once installed or simply snaps off and onto another location as needs change.
AWNING SAFETY TRAVEL STRAP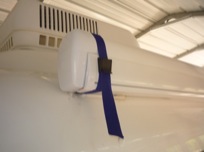 This strap is designed to insure your awning case stays securely shut when going down the highway. It is made of heavy nylon webbing and has a very positive buckle. We chose blue to match the Casita graphics.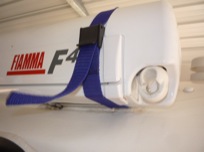 If you have installed a rain gutter, you will have to improvise a way for this strap to penetrate it. It can be sealed in place and the awning can be deployed after the strap is unbuckled.
APPLIANCE INSECT SCREENS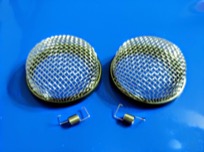 Mud daubers and other small critters can build their nests inside our water heater and furnace restricting air flow and causing other issues. These easy to install screens all but eliminate the issue. Even if you live in an area where these pest are not common, you might travel to where they are and would want the protection.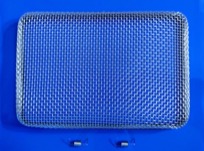 We live in the heart of mud dauber country, have used them for years and have never had problems. We currently stock versions for the furnace and water heater and will be adding more soon.
REFLECTIVE BELLY BAND TAPE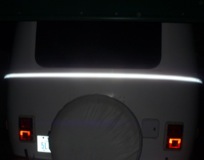 This highly reflective DOT approved tape really adds visibility to the rear and rear quarters of your Casita. We chose silver/white since it's the most reflective and also detracts the least from the curb appeal of our trailers during the day.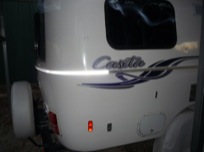 We've had it cut to be the correct width for our belly bands and 105" long to reach from the rear of one side window to the rear of the other. Due to the typical variance of one Casita to the next it might need a slight trim at the bottom if installed flush to the top of the band. This is easily accomplished with a single edged razor blade.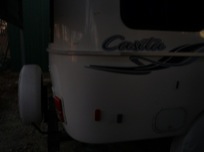 In the pictures, we show it photographed at dusk with no flash to illustrate how well it blends in during the day but really jumps out at night with a bit of light on it. Also available in a larger roll, enough for the entire belly band.
| | | |
| --- | --- | --- |
| Reflective Belly Band Tape, Rear only, 105" | $10.95 | Add to Cart |
| Reflective Belly Band Tape, Entire Belly Band | $41.95 | Add to Cart |
THUMB TURN CAM LOCKS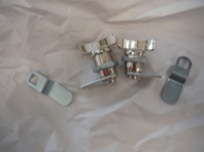 These handy thumb turn latches keep your access doors securely latched without the bother of the universal CH751 key! Your battery door and curb side access hatch require the larger 7/8" size and the electric cord hatch and water hatch require the smaller 5/8" size. Some older models may require a bit of finessing to fit to the electric hatch, but it's easy to do! Many early models from the 80's and 90's don't have a locking water tank hatch. Some folks put them on all four while others find the need to keep the key lock on one or more of the hatches so we've priced them individually as well as in a set of four. The 5/8" thumb turn latch fits the electrical hatch and the water port. The 7/8" thumb turn latch fits the storage hatch and the battery hatch. These will not fit the outside shower.
| | | |
| --- | --- | --- |
| Thumb Turn Latches (set of 4) 2014 and earlier | $24.96 | Add to Cart |
| Individual Thumb Turn Latch 5/8" (each) | $6.49 | Add to Cart |
| Individual Thumb Turn Latch 7/8" (each) | $6.49 | Add to Cart |
| Individual Thumb Turn Latch 1 1/8" (each) 2015 and later | $7.49 | Add to Cart |
| Thumb Turn Latches (set of 4) 2015 and later | $26.96 | Add to Cart |
If ordering individual latches be sure to specify which size you need from the description above!
SCREEN DOOR PUSH BAR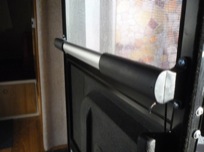 We like this bar for several reasons. First, it looks good on our trailers. It's brushed aluminum with heavy duty black ends. It really stiffens the door, it gives us something else to hang onto when we open the door on windy days and we can hang a towel on it to dry in the breeze. Installed high, it could be a curtain rod or just a second towel bar. We take it out of its package and throw the complex cutting instructions away, cut it to fit our Casitas and assemble it all back together. All you have to do is drill four ⅛" holes in your door and install the mounting screws. It's that easy.
4' COILED BREAK AWAY TETHER WITH CLIP AND RING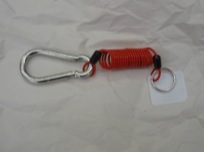 Here's the one you want. No more dragging and fraying of your factory break away cable. This one is coiled and just the right length to attach to your TV. Includes attachment ring for the switch end and a speed clip for the TV end.
COMPLETE BREAK AWAY SWITCH WITH COILED CABLE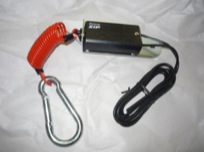 Break away switches are required by law in nearly every state. Besides that they're a darn good idea! We have the complete switch along with the desired coiled cable for those early model Casitas that were made without one. It's a simple two wire, one bolt installation.
| | | |
| --- | --- | --- |
| Complete Breakaway Switch with Coiled Cable | $26.95 | Add to Cart |
RIVET KIT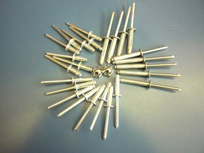 We package a generous assortment of the rivet sizes that most commonly break on your Casita along with a couple of acorn nuts and some additional sizes useful for mods. We have located a source of 1" slotted rivets and include some of them as well. The slotted rivet expands like a molly bolt and is not so particular about material thickness. It also grabs a larger cross section of the fiberglass on the back side. Casita has used this type of rivet to install your water heater. There are no snap caps in this kit. Instructions included.
SNAP CAPS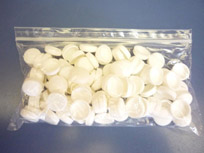 We package 100 snap caps and 15 bases in this kit. If you need more than that, let us know and we'll package and price it according to your needs.
---
WHEEL BEARING SETS
These sets include the correct double lipped rear seal as well as two bearings and two races. Also included, for older Casitas, is the D style tang washer with the bendable tabs. And for even older Casitas, the cotter pin. On later model Casitas, your nut retaining cage is reusable. Each set rebuilds one side of an axle, so order two sets to do the complete job.

Fits 3500lb axle with 10" brakes.

ORDER 2 SETS IF REPLACING BOTH SIDES
ORDER 1 SET IF YOU JUST WANT TO CARRY A SPARE
REPLACEMENT SEALS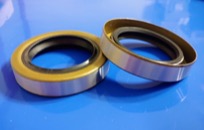 If you plan on cleaning and repacking your existing bearings, you'll still need to replace the inner seal. This is the correct double lipped model for your EZLube axle.
RUBBER DUST CAP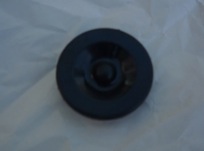 This is the correct part to replace your torn, missing or leaking dust cap that protects the zerk fitting. We recommend adding a small bead of RTV to the groove to minimize splatter on your rims.
REPLACEMENT GREASE CAP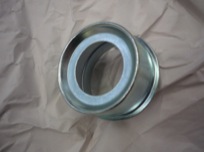 We've been stocking these replacements at the shop for some time now. It seems some service departments are fond of removing your grease caps with a giant pair of Channel Locks or the biggest hammer they can find. That's not our style so when we encounter a pair that's been abused, we replace them. It's actually easier to replace them than it is to clean your old ones so you might as well pick up a pair while you're ordering your new wheel bearings. Rubber dust caps sold separately.
---
Thanks for shopping!
Jeff & Amanda
Larry & Debbie
[email protected]
---